*Update: ITS advises that you approach your local Apple store to request a replacement adapter. The University can no longer offer replacements. 
ITS would like to advise UQ staff of an issue with Apple AC Wall Plug Adapters. 
What's the issue?
Apple has determined that, in very rare cases, the two prong Apple AC wall plug adapters designed for use in Australia may break and create a risk of electrical shock if touched. These wall plug adapters shipped from 2003 to 2015 with Mac and certain iOS devices, and were also included in the Apple World Travel Adapter Kit. To view the official announcement from Apple click here: http://www.apple.com/support/ac-wallplug-adapter/
How do I know if I'm affected?
Apple has provided the following images to allow users to identify which adapters are affected. Affected adapters have either 4 or 5 digits (not necessarily 4913), or no digits. Replacement adapters display a 3 letter regional code (AUS). 
Affected Adapter
Replacement Adapter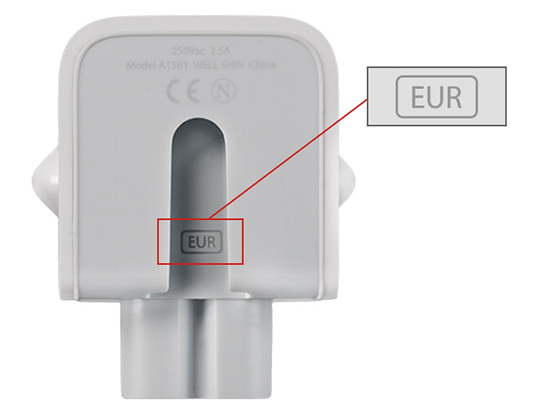 Please note that only the affected half of the adapter (shown below in red) will need to be replaced.
What should I do if my adapter is among those affected?
You can request a replacement adapter from your local Apple store. The University no longer offers replacements.